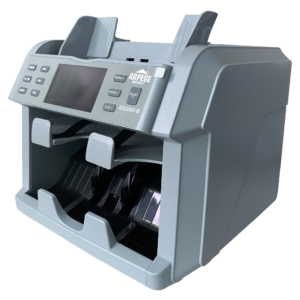 Description
AS280 B value counter: the only professional 2-pocket value counter with integrated printer and serial number reading. Recognizes multiple currencies automatically and its counterfeit detection is top of the bill. A recommendation for everyone who wants to process cash professionally!
Of course AS280 B passed the ECB test successfully!
Available currencies: USD, EUR, GBP, CNY, SAR, AED, INR, RUB, THB, PKR, IDR, INR, JPY, TWD, LBP etc.;
Counting modes: mix, single, face, orientation, count;
Advanced counterfeit detection with UV/MG/IR/DD/2CIS;
Software update via USB port;
ADD & batch counting function;
Auto & manual counting mode;
Double-sided serial number reading;
Different counting speeds (800, 1000 et 1200 pcs /mn);
Hopper Capacity: 500 pcs;
Stacker capacity: 200 pcs;
Reject Pocket Capacity: 50 pcs;
Transfer of counting report and serial number report to PC;
Automatic currency recognition function and multi-currency counting function for 4 different currencies;
Built-in printer to print the counting report and serial number report.
ADDITIONAL INFORMATIONS :
WEIGHT : 10kg
DIMENSIONS : 28 × 28 × 30 cm
BRAND : Arpège Security
ECB TESTED : Yes